1 Year Anniversary Party at The Empire Room #Empire1Year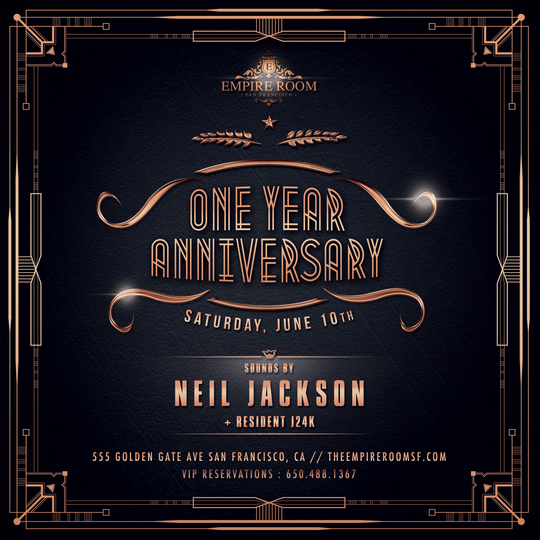 THE EMPIRE ROOM
ONE YEAR ANNIVERSARY
San Francisco's hottest venue!
WHEN: Saturday, June 10th, 2017
TIME: 10PM – 2AM
WHERE: Empire Room | 555 Golden Gate ave, SF
MUSIC: Top 40 | Hip-Hop
Hosted by: TMZ Charles | Trungfest | Julian Clark | Viki Lau  | Jeff Presents
Free Entry before 10:30pm w/ RSVP
Bottle Service | (650)488.1367
TheEmpireRoomSF.com
---
Join us for our One Year Anniversary party surrounded by decadence at The Empire Room. Enjoy the party with free entry or book a VIP table for your group. World renowned DJ talent, Party favors, Large dance floor, , along with a massive confetti blast at midnight to for a night not to be missed.
{ Soundtrack Provided By }
NEIL JACKSON
(NYC)
&
J24K
(RESIDENT)
{ EMPIRE ROOM }
555 Golden Gate Ave.
San Francisco
21+ | Sneakers OK
Bottle Service : 650. 488. 1367
Dress well
FOLLOW US:: @empireroom_sf (snapchat + instagram + twitter)
www.theempireroomsf.com
This iconic 8,000 square foot space was the former home of the famous Stars and Trader Vic's! With large Ballroom style interior, elevated private VIP room, two separate plush lounge areas, grand chandeliers and one of the longest bars SF has to offer. We set out to do something different and create a communal space for San Francisco to bring cutting edge talent to a more intimate space. With a very versatile space that caters to both bottle reservations and a decent size dance floor. We at Empire Room are always trying to create something different and something special with each event…